Football Programmes
Lot 1225:

World Cup 1966. Official programmes for the World Cup Final 1966, England v West Germany held at Wembley on July 30th 1966 and the World Cup 1966 Tournament programme. Match details neatly hand written to pages of both programmes and further annotation to the title page of the Final programme. The Final programme in good condition, the tournament programme with file holes. Sold with 'World Cup Football Championship 1966. Evening Standard World Cup Special by Bernard Joy. File holes and marks to cover. Qty 3
Estimate: £60/80
Hammer price: £120
Lot 1226:
Nottingham Forest Big Match and European home programmes 1967 to 1996. Includes Fairs Cup 1st round v Eintracht Frankfurt, 17th October 1967, European Cup 1st round v Liverpool, 1978, European Cup v Grasshoppers, home and away legs 1979, European Cup v Arges Pitesti, 1979, European Cup semi-final 1st leg v F.C. Cologne 1979, v Dynamo Berlin, home and away legs 1980, League Cup semi-finals, UEFA Cup quarter-final 2nd leg v Bayern Munich, 1996 (with official team sheets released to the press on the day of the match, with annotations by the press correspondent) etc. Annotations to programmes, otherwise G. Plus a large rosette for the European Cup Final v Hamburg, 28th May 1980. Qty 12
Estimate: £30/40
Hammer price: £15
Lot 1227: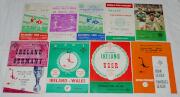 Northern Ireland, Republic of Ireland and Wales International home programmes 1960s-2000s. Northern Ireland programmes include v West Germany 1960, v Wales 1960, v England 1969, v U.S.S.R. 1971 etc. Republic of Ireland programmes include v England 1950 (tape to spine), v Wales 1960, v Scotland 1961, v Czechoslovakia 1969 etc. Wales programmes include v England 1967 and 1968 etc. Includes some Under-23 and Inter-League programmes. Some duplicates. Odd faults, annotations to some programmes, otherwise G. Qty 45
Estimate: £25/35
Hammer price: £28
Lot 1228:

George Best. Northampton Town v Manchester United 1970. Official programme for the F.A. Cup 5th round match played at Northampton on 7th February 1970. Famous match where United beat Northampton 8-2 and Best scored six of the goals. Best was not included in the printed programme lineup.
Estimate: £25/35
Hammer price: £20
Lot 1229:
England away programmes 1960-2006. Programmes include v Luxembourg 1960, v East Germany 1972 (Under-23), v West Germany 1978, v Austria 1979 etc. Some programmes with official team sheet released to the press on the day of the match. Odd faults, annotations to some programmes, otherwise in good condition. Qty 15
Estimate: £25/35
Hammer price: £10
Lot 1230: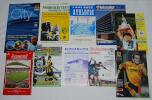 'Football firsts' 1972-2015. Twenty official match programmes marking English and Scottish club firsts. Programmes include Norwich City v Everton, 12th August 1972, Norwich's first game in League Division 1. Wigan Athletic v Tranmere Rovers, 16th August 1978, Wigan's first match in a Football League competition (League Cup, first round). Wycombe Wanderers v Chester City, 21st August 1993, Wycombe's first Football League (Division 3) match. Leicester City v Athetic Bilbao, friendly, 4th August 2002, first match at the Walkers Stadium. Manchester City v Barcelona, 10th August 2003, first match at the City of Manchester Stadium. Arsenal v Aston Villa, 19th August 2006, first match at The Emirates Stadium. Brighton & Hove Albion v Eastbourne Borough 16th July 2011, first competitive match at the Amex Stadium (Sussex Senior Cup Final) etc. Three programmes for Scottish clubs' first appearances in the Scottish Football League are Peterhead v Montrose, 5th August 2000, Gretna v Morton, 3rd August 2002, and Annan Athletic v Stenhousemuir, 9th August 2008. Two duplicates. G/VG
Estimate: £30/50
Hammer price: £20
Lot 1231: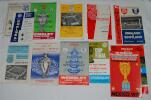 Football programmes 1960s. A selection of official match programmes covering the World Cup, European Cup, F.A. Amateur Cup, Football League etc. Includes three Wealdstone F.C. official programmes for the F.A. Amateur Cup Semi-final v Alvechurch, Stamford Bridge, 19th March 1966, and the Final, v Hendon, Wembley, 16th April 1966, also v Stevenage Town, Hitchin Centenary Cup Final, 13th September 1966. Six Watford home programmes for seasons 1963/64 (Qty 4) and 1966/67 (2), Arsenal 1964/65 (2), Tottenham Hotspur 1964/65 (3) and 1965/66 (1). European Champion Clubs' Cup Final, Benfica v A.C. Milan, Wembley 22nd May 1963. F.A. Cup Finals at Wembley 1966 and 1967, England home internationals at Wembley 1965 (4), 1966(3) and 1967 (1). Official World Cup Mexico 1970 programme, England v Poland, World Cup Qualifier, Wembley 17th October 1973. 'Stanley Matthews XI v World Stars, Farewell Match at the Victoria Ground Stoke' 28th April 1965 etc. Qty 31. G/VG
Estimate: £30/40
Hammer price: £15