Cricket Attire, Caps, Blazers & Ties
Lot 489:

India. White sleeveless Test cricket sweater with trimming in Indian colours to neck and waist. New in bag, ownership unknown. Size 44". G
Estimate: £30/50
Hammer price: £65
Lot 490:

Michael Hussey. Durham 2005 & Australia 2005-2013. Blue Durham one day shirt worn by Hussey during his time playing for Durham. The shirt, with 'Hussey' and '1' to back and signed over the '1' by Hussey, is framed and mounted with images of Hussey and his signature on white card. Framed and glazed. Overall 31.5"x40". VG
Estimate: £50/80
Hammer price: £22
Lot 491:

Alec Stewart. Surrey & England. Replica England I.C.C. Cricket World Cup South Africa 2003 blue cricket shirt with England emblem to chest and 'ENGLAND' below. Red collar and trim. Mounted with a signed photograph of Stewart below. Mounted, framed and glazed, overall 28"x37". VG
Estimate: £30/50
Hammer price: £15
Lot 492:

Warren Hegg. Lancashire & England 1986-2005. Lancashire navy blue cloth 1st XI cricket cap. The cap with Lancashire emblem of a red rose. The cap was previously sold at a C.M.S. auction held in 2010, with letter of provenance plus receipt of purchase. G
Estimate: £50/80
Hammer price: £130
Lot 493:
Nottinghamshire mid blue county 1st XI cricket cap with county emblem embroidered to front. Player unknown. Inside the cap is a taped label with 'Nottinghamshire C.C.C.' and the ink signature of Harold Larwood on piece. Some light fading and minor staining otherwise in good condition
Estimate: £60/90
Hammer price: £55
Previously sold by Knights in 2007
Lot 494: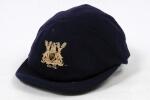 William Arnold Sime. Nottinghamshire 1935-1950. Nottinghamshire C.C.C. 1st XI cap worn by Sime during his playing career. The navy blue blazer, by Willis Walker of Keighley, with excellent raised embroidered Nottinghamshire emblem with 'Notts' below to front. 'W.A. Sime' handwritten in black ink to inside lining. Odd small moth hole, some wear and fading to emblem, slight warping to peak otherwise in good condition
Estimate: £100/150
Hammer price: £140
William Sime was a South African-born English barrister and judge who also played first-class cricket for Nottinghamshire whom he joined in 1935 and stayed with them until 1950, captaining the club in his final three years
Lot 495:
Everton de Courcy Weekes. Barbados & West Indies 1944/45-1963/64. West Indies maroon cloth Test cap, by Simpson of Piccadilly, with embroidered West Indian emblem to front. The inner label to cap has handwritten in ink 'E. Weekes'. The cap peak in distressed condition, with major moth damage to the peak, the main body of the cap in better condition though still with some small evidence of moth damage. From the Mike Smith Cricket Collection
Estimate: £100/150
Hammer price: £550
Everton Weekes scored over 12,000 runs in first class cricket at an average of 55.34 with a highest score of 304no. In Tests he averaged 58.61 with a highest score of 207
Lot 496: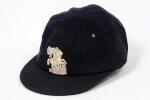 Dennis Brian Close. Yorkshire, Somerset & England 1949-1977. M.C.C. navy blue cloth Test touring cap, by Simpson of Piccadilly, with embroidered touring emblem of St. George & Dragon. 'D.B. Close' handwritten to inside label. A few moth holes to cap and peak, some wear to inner lining otherwise in good condition. From the Mike Smith Cricket Collection
Estimate: £150/250
Hammer price: £240
Brian Close went on two tours with the M.C.C. to Australia & New Zealand in 1950/51 and to Pakistan in 1955/56.

Brian Close played 22 Test matches for England from 1949-1976. In 1949 at the age of 18 he became the youngest player to attain the double, the youngest to gain a Yorkshire County cap and the youngest to represent England in Test cricket. He scored almost 35,000 runs at 33.26 and took over 1100 wickets at 26.42. He is famously remembered facing the West Indian fast bowlers in 1976 having been recalled to the England team at the age of 45. The interval between Close's first and last Test matches was 27 years, the second-longest after Wilfred Rhodes. Close died in September 2015 at the age of 84 years.
Lot 497:
Test and County Caps. A collection of fourteen replica cloth caps of county cricket clubs in England and Wales with odd duplication. The caps are for Derbyshire, Durham, Hampshire (2, same design), Kent, Lancashire, Leicestershire, Middlesex ( 2, different designs), Northamptonshire, Nottinghamshire, Somerset, Sussex and Worcestershire. In addition there are replica baseball style caps of South Africa, England Test and One Day International (2) plus England caps with emblems in red and gold etc. Qty 22 Good/very good condition
Estimate: £80/120
Hammer price: £240
Lot 497a:

Michael Henry Denness. Kent, Essex, England and Scotland 1962-1980. M.C.C. tour of Australia and New Zealand 1974/75. Official M.C.C. navy blue touring blazer with embroidered M.C.C. emblem in white of St George & Dragon of England and below in scroll 'Australia & New Zealand 1974-1975' to breast pocket worn by Mike Denness on the tour. The blazer by Simpson of Piccadilly. Good/very good condition
Estimate: £120/160
Hammer price: £340
For the first time in several years, the captaincy remained unchanged for successive major tours. The tour selection was criticised, too many fast bowlers and not enough batsman, the selection of Denness as captain and the non selection of Jon Snow. In addition Boycott withdrew stating he was not fit enough mentally to return to Test cricket. Not good omens for the tour and it proved to be the case. England were destroyed by Lillee and Thomson and lost the series 4-0 with one Test drawn. Denness stood down from the captaincy and from playing due to lack of form just prior to the start of the fourth Test and John Edrich took over for this match. Denness returned to the captaincy in the fifth Test which was lost but, against all the odds, in the sixth Test England beat Australia by an innings and four runs with Denness scoring 188.

Note. The blazer for the 1974/75 tour did not have trimming to pockets, sleeves and blazer edging in M.C.C. colours