Items From The Collection Of Brian Close. (Yorkshire, Somerset & England 1949-1977)
Brian Close played 22 Test matches for England from 1949-1977. In 1949 at the age of 18 he became the youngest player to attain the double, the youngest to gain a Yorkshire County cap and the youngest to represent England in Test cricket. He scored almost 35,000 runs at 33.26 and took over 1100 wickets at 26.42. He is famously remembered facing the West Indian fast bowlers in 1976 having been recalled to the England team at the age of 45. The interval between Close's first and last Test matches was 27 years, the second-longest after Wilfred Rhodes. Close died in September 2015 at the age of 84 years.
Lot 824:

Dennis Brian Close. Yorkshire, Somerset & England 1949-1977. Yorkshire County Cricket Club. Gillette Cup Winners 1965'. Silver plated one pint ale mug with engraved inscription 'W.M. Darley Ltd, Brewers, Thorne. To acknowledge Yorkshire C.C.C. Gillette Cup Winners 1965. D.B. Close'. The mug stands 4.75" tall with inscription to side. G
Estimate: £70/100
Hammer price: unsold
In the Gillette Cup Final of 1965, Yorkshire beat Surrey by 175 runs. Boycott made 146 and Illingworth took 5-29
Lot 825:
Dennis Brian Close. Yorkshire, Somerset & England 1949-1977. Silver plated (unmarked) decorative tray in the shape of the island of Ceylon (now Sri Lanka). Beautifully and heavily decorated to rim and edges. To centre the engraved inscription 'Brian Close. In Appreciation of your visit to Carey College, Colombo. 20.1.65'. Approximately 9.5"x14". Good condition
Estimate: £50/70
Hammer price: £95
In 1965, between mid January and mid December, Brian Close visited the island of Ceylon to fulfil a month long coaching assignment.
Lot 826:

Dennis Brian Close. Yorkshire, Somerset & England 1949-1977. Crown & Rose cast one pint pewter tankard with engraved inscription 'Many thanks Brian. Cheers! Jim. 1967'. The tankard stands 5" tall with inscription to side. G
Estimate: £60/90
Hammer price: £40
J.(Jim) G. Binks was the Yorkshire C.C.C. beneficiary in 1967 and this tankard was a thank you to Brian for assistance in his Benefit Year
Lot 827:

Dennis Brian Close. Yorkshire, Somerset & England 1949-1977. Yorkshire- Champions 1967. Silver plated tankard with engraved inscription 'Yorkshire C.C.C. County Champions 1967. Presented to D.B. Close by W.M. Darley Ltd, Brewers, Thorne, Doncaster. Yorkshire'. The mug stands 4" tall with inscription to side. G
Estimate: £70/100
Hammer price: £78
Yorkshire won the County Championship playing 26 matches, winning 12, drawing 9 and losing 5 matches. Two abandoned
Lot 828:
Dennis Brian Close. Yorkshire, Somerset & England 1949-1977. Large, ornate and heavily decorated circular electro plated salver with scalloped rim. The centre with engraved inscription 'Bristol Sporting Club. Sportsman of the Night. April 1971. Brian Close'. Approximately 16.5" diameter. Good condition
Estimate: £40/60
Hammer price: £30
Lot 829:

Dennis Brian Close. Yorkshire, Somerset & England 1949-1977. Halstatt pewter half pint tankard with engraved inscription 'West Indies v Yorkshire Leagues. Harrogate 1973'. The tankard stands 4" tall with inscription to side. G
Estimate: £60/90
Hammer price: £40
The touring West Indies team played the Yorkshire Cricket Leagues XI at Harrogate on the 16th August 1972. The League won by six wickets, Close made 36
Lot 830:

Dennis Brian Close. Yorkshire, Somerset & England 1949-1977. Pewter one pint tankard with engraved inscription 'The North's First Floodlit Cricket Match, Scarborough F.C. Ground. 3-9-80'. The tankard stands 5" tall with inscription to side. G
Estimate: £40/60
Hammer price: unsold
Lot 831:

Dennis Brian Close. Yorkshire, Somerset & England 1949-1977. Silver plated tankard with engraved inscription 'Courage Old England Cricket XI vs John Smith's Old Yorkshire XI. Bradford 1981'. The tankard stands 5" tall with inscription to side. G
Estimate: £40/60
Hammer price: unsold
Lot 832:

Dennis Brian Close. Yorkshire, Somerset & England 1949-1977. Pewter one pint tankard with engraved inscription '96th Scarborough Cricket Festival. D.B. Close's XI v Pakistan. September 1982. Presented by the Scarborough Building Society'. The tankard stands 5" tall with inscription to side. G
Estimate: £60/90
Hammer price: unsold
Close's XI won by an innings and 46 runs. Close made 26no
Lot 833:

Dennis Brian Close. Yorkshire, Somerset & England 1949-1977. Pair of matching Crown & Rose pewter goblets with engraved inscription 'To D.B. Close from A.G.S. 1966'. The goblets stand 6" tall with inscription to side. G
Estimate: £50/80
Hammer price: unsold
'A.G.S.' thought to be Aireborough Grammar School where Close received his secondary education. The school cricket team was unbeaten in the six cricketing summers during Brian's time there. Close became England Captain in 1966
Lot 834:

Dennis Brian Close. Yorkshire, Somerset & England 1949-1977. England v Australia Test Cricket Centenary 1980 held in England. Commemorative crystal glass goblet with etched titles to side of glass 'England v Australia. Centenary Test Match. Lord's. 28th August - 2nd September 1980' and 'D.B. Close' engraved to base. Presented to Close during the Centenary Test match. 7" in original presentation box. VG
Estimate: £70/100
Hammer price: £110
One of these personalised goblets was given to every living players who had played in an Ashes Test match
Lot 835:
Dennis Brian Close. Yorkshire, Somerset & England 1949-1977. Excellent pint size glass tankard by Thomas Goode, etched to side 'J.P.G. XI 1993 with Getty cricket emblem to the other. Excellent condition. 5.5" in original box
Estimate: £50/80
Hammer price: unsold
John Paul Getty's ground at Wormsley was officially opened in 1992 and this items was presented to Close when he represented J.P. Getty's team in a match at the new ground in 1993
Lot 836: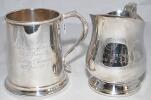 Dennis Brian Close. Yorkshire, Somerset & England 1949-1977. Two one pint silver plated tankards won by Close for golf matches and tournaments. One engraved with inscription '10th. A.T.S. Pro-am. Woburn G&C.C. 1984' and the other 'For the person with a sense of direction. No 1. St James' Row. Putting Champion. 27th June 1985'. Both around 4.5" tall. G
Estimate: £30/50
Hammer price: £30