Cricket Bats, Balls & Equipment
Lot 484:
Australia 1909. 'Abel & Sons Robert Abel "The Guvnor" cricket bat signed to the face by fourteen members of the touring party. Signatures are Monty Noble (Cpt), Victor Trumper, Ransford, McAlister, MaCartney, Whitty, Hopkins, Cotter, Hartigan, Bardsley, Armstrong and Laver and signed to the verso by forty Test and county cricketers, mostly from the Kent and Surrey counties. Signatures include Dillon, Mason, Hutchings, Day, Colin Blythe, Fielder, Woolley, Humphreys, Hendren, Crawford, Hayward, Warner, Tarrant, Relf, Rhodes, Mead, Hobbs, Hayes, Rushby, Trott, Lees, Goatly etc. Some unidentified and some ineligible signatures noted. The wood darkened with age and some grime although those identified legible. String to handle becoming loose otherwise in good condition
Estimate: £250/350
Hammer price: £280
Lot 485:

England v New Zealand, Trent Bridge 1994. 'Cornhill Insurance' cricket stump used in the Test match held on the 2nd-6th June 1994. The stump slit and hinges and signed to each side by the England and New Zealand teams. Twenty three signatures including Atherton and Rutherford, the two captains, Larsen, Crowe, Fleming, Nash, Parore, Hart, Stewart, Hick, Gooch, Rhodes, Fraser, Malcolm etc. G
Estimate: £70/100
Hammer price: unsold
Lot 485a: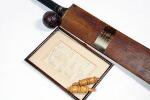 Frank Bramley Watson. Lancashire 1920-1927. Full size 'Windett & Smith Ernest Tyldesley' autograph bat used by Watson in his highest innings of 300no achieved in the match Lancashire v Surrey, Old Trafford, 2nd-5th June 1928. During his innings the blade of the bat was split and not used again. Modern plaque to face commemorating his innings. Also a pair of bails, ball and a framed official scorecard from the same match. Sold with a card written by Watson's daughter authenticating the items. Originally sold as lot 196 in the Cricket Memorabilia Society auction, March 2017. G/VG
Estimate: £250/350
Hammer price: £280
In a high scoring drawn match Andrew Sandham scored 282, retired ill, for Surrey in their only innings of 567. In Lancashire's reply of 588-4 Frank Watson scored 300no and Ernest Tyldesley 187. Frank Watson played 456 matches for Lancashire and was a member of the M.C.C. touring team to the West Indies in 1925/1926.