Cricket Bats, Balls & Equipment
Lot 891: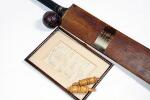 Frank Bramley Watson. Lancashire 1920-1927. Full size 'Windett & Smith Ernest Tyldesley' autograph bat used by Watson in his highest innings of 300no achieved in the match Lancashire v Surrey, Old Trafford, 2nd-5th June 1928. During his innings the blade of the bat was split and not used again. Modern plaque to face commemorating his innings. Also a pair of bails, ball and a framed official scorecard from the same match. Sold with a card written by Watson's daughter authenticating the items. Originally sold as lot 196 in the Cricket Memorabilia Society auction, March 2017. G/VG
Estimate: £300/500
Hammer price: unsold
In a high scoring drawn match Andrew Sandham scored 282, retired ill, for Surrey in their only innings of 567. In Lancashire's reply of 588-4 Frank Watson scored 300no and Ernest Tyldesley 187. Frank Watson played 456 matches for Lancashire and was a member of the M.C.C. touring team to the West Indies in 1925/1926.
Lot 892:
Signed cricket bats 1990-1996. Four bats in large display case. Bats are England v Pakistan 1992 signed by thirteen England and sixteen Pakistan players. Signatures include Gooch, Hick, Stewart, Ramprakash, Javed Miandad, Saleem Malik, Rameez Raja, Aamer Sohail etc. Australia tour to England 1993 signed by sixteen members of the Australia touring party including Border (Captain), Hughes, S. Waugh, Slater Healy etc. South Africa 1996 signed by fourteen South Africa players including Cronje, Donald, Kirsten etc. Also Lancashire C.C.C. winners of the Benson and Hedges Cup 1990, signed by fourteen Lancashire players including Hughes (Captain), Allott, Fowler, Mendis, Atherton, Fairbrother etc. Some signatures faded, otherwise in good condition
Estimate: £50/80
Hammer price: £20
Lot 893:
Leicestershire C.C.C. 1980s-2000s. Six full size cricket bats signed by Leicestershire players, one also by the 2001 Pakistan touring side. Bats include John Steele Benefit Year 1983, James Whitaker Benefit Year 1993 etc. Sold with a bat with Garry Sobers career record on a label laid down to the bat face, signed by Sobers, and a Gray Nicholls bat signed by the twelve members of the 1994 England team. Qty 8. Some signatures faded, otherwise in good condition
Estimate: £50/80
Hammer price: £35
Lot 894:
England, West Indies and Worcestershire C.C.C. Two full size Duncan Fearnley bats. One signed by the England and West Indies teams, 1991. Signatures include Gooch, Atherton, Smith, Hick, Ramprakash, Pringle, Haynes, Marshall, Dujon, Ambrose, Logie etc. Fading to some signatures. The other bat for Worcestershire v Derbyshire, Kidderminster, July 1993, fully signed by both teams. G
Estimate: £30/50
Hammer price: £18
Lot 895: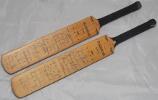 M.C.C. tour to West Indies 1973/74. Two large miniature Slazenger 'Super' autograph cricket bats, 17". One bat signed to the face by seventeen members of the M.C.C. touring party. Signatures include Denness (Captain), Greig, Boycott, Underwood, Pocock, Fletcher, Amiss, Jameson, Hayes etc. Lacking the signature of Geoff Arnold. The other bat signed by sixteen West Indies players of the same period, including Kanhai, Boyce, Camacho, Lloyd, Murray, Kallicharran, Fredericks etc. Qty 2. G
Estimate: £30/50
Hammer price: £65
Lot 896:
Signed miniature cricket bats c 1980s. Three 'Hunts County' miniature bats signed by touring teams c1980s, including two for West Indies and one Pakistan. Also three other miniature signed bats for the period including two Australia (one, 1989) and one New Zealand 1986. Each measures 17". Some fading to signatures on two bats otherwise good. Qty 6. G
Estimate: £30/50
Hammer price: £20
Lot 897:

Somerset v Yorkshire 1926. Original cricket ball on plinth. Label to plinth inscribed 'Somerset Yorkshire 1926'. G
Estimate: £50/80
Hammer price: £35
In the drawn match played at Taunton 1st-3rd September 1926, MacBryan scored 131 and Lyon 107 for Somerset and Robinson took six wickets for Yorkshire. There is no provenance to confirm that the ball was used in the match