Cricket Attire, Caps, Blazers & Ties
Lot 880: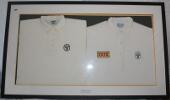 David Boon. Australia. Two white cricket shirts worn by Boon on the 1985 and 1989 tours to England. Both shirts with 'A.C.B' emblems to chest, and one also with 'XXXX' sponsors logo. One label initialled 'DB'. Framed and glazed with printed title to mount 'David Boon- Australia Ashes Tours 1985 & 1989'. Overall 47"x28". G/VG
Estimate: £100/150
Hammer price: unsold
The shirts were presented by Boon to the vendor who regularly had professionals playing for the club, including David Boon (1981), also Jacques Kallis (1990's) and Derek Crookes (1995) lodging at their home near Kendal
Lot 881:

David Boon. Australia. Three official players tour ties for the 1985,1989 and 1993 Australia tours to England. Attractively mounted, framed and glazed overall 20"x23". G/VG
Estimate: £100/150
Hammer price: unsold
The ties were presented by Boon to the vendor
Lot 882:

Derek Crookes. South Africa. One day international shirt given by Crookes to the vendor. Framed and glazed with printed title to mount 'Derek Crookes South Africa 1995'. Overall 30.5"x37". G/VG
Estimate: £80/120
Hammer price: unsold
Crookes played as the Club professional for Netherfield Cricket Club, Kendal, helping them win the Northern League Championship for the first time in 1997. The shirt was presented by Crookes to the vendor
Lot 883:
Sky Sports shirt. Official pale blue formal shirt with Sky Sports emblem to breast pocket. The shirt is signed to the front by six members of the Sky commentary team, David Gower, David Lloyd, Ian Botham, Michael Holding, Bob Willis and Paul Allott. Mounted framed and glazed, overall 28"x33". Sold with four further framed pictures including 'Legends' by Peter Martin to commemorate 150 years of cricket at Old Trafford, signed by the artist. Overall 38"x31.5". An unusual set of twelve painted caricatures in the style of John Ireland, of cricketers and personalities in the form of tiles. Players include Willis, Imran Khan, Border, Lillee, Gower, Richards, Gatting, Gooch etc. Artist unknown. Overall 24.5"x19.5". Reproductions of the scorebook for Jim Laker's match in which he took nineteen wickets, signed by Laker three times. Overall 17.5"x16". Reproduction print of Don Bradman, 'The Boy from Bowral', 17.5"x21.5". Qty 5. G/VG
Estimate: £30/50
Hammer price: £40
Lot 884:
David Capel. Northamptonshire & England. England white long sleeved shirt with England and 'MRF World Series' emblems to chest, worn by Capel on the tour to India for the 1989 M.R.F. World Series (Nehru Cup). With signed note of authentication from Capel dated 1989. G
Estimate: £25/35
Hammer price: £12
Lot 885:

Chris Broad. Nottinghamshire, Gloucestershire & England. Official mid blue blazer worn by Broad on the England 'Rebel' tour of South Africa 1990/91. With tour emblem and tour & date in scroll below. The blazer by 'Phil Carrick Promotions' with a signed note of authentication from Broad. VG
Estimate: £80/120
Hammer price: £48
Previously sold by Knights as lot 1193 in April 1997
Lot 886:
William Eric Bowes. Yorkshire & England 1929-1947. M.C.C. tour of Australia 'Bodyline' 1932-33. M.C.C. navy blue cloth Test touring cap, by E.C. Devereux of Eton, Bucks, with excellent raised embroidered touring emblem of St. George & Dragon in silver thread to front of cap. 'W.E. Bowes' handwritten in black ink to inner label of cap. Wear and some damage to inner lining, the cap has one small moth hole to the rear otherwise in good condition. A rare Bodyline tour cap, one of only seventeen caps issued to the players on the tour. A cap from the '1932/33. Bodyline' series must surely be the ultimate possession of any serious cricket cap collector. A rare and almost unique cap from the iconic series which caused such controversy and ill feeling with its leg theory bowling which has had long lasting repercussions on both Test and County cricket
Estimate: £2500/3500
Hammer price: £2500
The cap was purchased by the vendor from Eddie Lawrence, cricket writer and Somerset cricket lover but originally from Yorkshire, in 2010, in the year that he died. The cap emblem and makers label have been checked against the 'Bodyline' 1932/33 cap held at Lord's museum, which was Harold Larwood's, and they are identical.

Bill Bowes playing career with Yorkshire spanned from 1929-1947. He played in 372 first-class matches as a right arm fast bowler and a right-handed tail end batsman. He took 1,639 wickets with a best performance of nine for 121 and completed ten wickets in a match 27 times. He scored 1,531 runs with a highest score of 43* and is one of very few major players whose career total of wickets taken exceeded his career total of runs scored. Bowes was a late selection for the tour, just three days before the ship sailed, for England's tour of Australia and New Zealand in 193233. He played in only the second Test on the Australian leg of the tour, at the Melbourne Cricket Ground, in which he bowled Don Bradman first ball and that was his only wicket in the match, which Australia won by 111 runs. Bowes played in the second Test against New Zealand at Eden Park in Auckland and took six for 34 on the first day to bowl New Zealand out for only 158. Bowes played in twelve first-class matches on the tour and took 37 wickets with his best performance the six for 34 in the Auckland Test.

The tour of Australia & New Zealand in 1932/33 was Bill Bowes only overseas tour with the M.C.C.
Lot 887:

Darren Gough. Yorkshire & England. England navy blue cloth touring cap worn by Gough during his playing career. The cap, made by Albion C&D of Australia, with embroidered St. George & Dragon emblem of England to cap. Previously sold by Knights as lot 675, November 2015. Originally given to the prior vendor by Gough, a personal friend. VG
Estimate: £100/150
Hammer price: £100
Lot 888:

I.Zingari C.C. I.Zingari cricket club cloth cap in club colours of red, black and gold. Sold by Knights as lot 766, August 2016. Some wear to cap otherwise in good condition
Estimate: £60/90
Hammer price: unsold
I.Zingari means 'Gypsies' in Italian
Lot 889:

Marylebone Cricket Club black cricket cap with MC.C. emblem in gold and red. The cap by Albion C&D of Australia. Size large. Sold by Knights as lot 768, August 2016. G
Estimate: £50/80
Hammer price: unsold
Lot 890: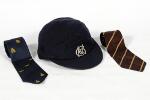 Graham Anthony Richard 'Tony' Lock. Surrey, Leicestershire, Western Australia & England 1946-1971. Navy M.C.C. non-touring cap with M.C.C. letters embroidered to front. Initials 'T.L.' handwritten to label inside. Sold with a Surrey tie and a benefit tie produced in Australia, presumed to be from a benefit given to Lock when playing for Western Australia. Sold with a photocopied letter of provenance from the previous vendor who sold the collection privately in 2009. Qty 3. G/VG
Estimate: £80/120
Hammer price: £95
Tony Lock was successful for all four major teams he played for taking 100 wickets in a season on fourteen occasions and taking 200 wickets twice, his best year being 1955 taking 215 wickets at an average of 14.39. His outstanding bowling performance was in taking all ten wickets (for 54 runs) for Surrey v Kent at Blackheath in 1956. In 1962/63 he was left out of the M.C.C. touring party and instead played for Western Australia. Lock was famously the bowler who took 'the other wicket' when Jim Laker achieved his world-record 19-90 at Old Trafford against Australia in 1956. His tally of 831 first class catches, mostly taken at short leg, lies behind only W.G. Grace and Frank Woolley in the all time listing