Rugby
Lot 995:

Horace Sampson Lyne. Wales 1882-1887 and former President of the Welsh Rugby Football Union. 'Welsh Rugby Football Union. Winners 1904/05'. Attractive solid silver cigarette case presented to Lyne to commemorate Wales winning the Grand Slam in 1904/05. Welsh crest and details in scroll engraved to front and Lyne's signature engraved to verso. Gilt lined case by Crouch of Cardiff and hallmarked Birmingham 1905. 3.25"x3". G. Previously sold by Knights
Estimate: £250/350
Hammer price: £220
Horace Lyne (1860-1949) won five caps for Wales between 1883-1887, captaining Newport R.F.C. in 1883/84, he served on the International Rugby Board 1887-1938 and was President of the Welsh Rugby Football Union from 1906 to 1947
Lot 996:

Rugby. 'A Touch Down'. Excellent brass metal rounded oblong vesta case with an impressive image of rugby touchdown involving four rugby players to side and to reverse the engraved name 'K.G. Shelitine', lacking ring suspension. Reg No. 159810 to case (c1890). Approximately 1.25"x2". Minor dents to verso otherwise in good condition. An attractive vesta
Estimate: £150/250
Hammer price: unsold
Lot 997:

'Special Souvenir. All Blacks in England, Ireland & Wales' [1924/25]. Edited by RA Byers-Barr. Compiled and organised by Major Roger Dansey 1924. Mid-tour brochure 42pp. Official English edition. Published by John Waddington Limited of Leeds and London, for the New Zealand Advertising Agency. Original green illustrated wrappers. The brochure includes a tour itinerary and team picture, history of past tours by the All Blacks & British teams, pen pictures and photos of the full touring party, poems & songs, reports on matches and other articles. Some minor wear to edges and slight soiling to wrappers otherwise in very good condition. Formerly the property of Arthur William Carr (cricketer). Nottinghamshire & England 1910-1934
Estimate: £80/120
Hammer price: £75
Cliff Porter's New Zealand team become known as the "Invincibles", winning every one of their 32 matches played on tour including four test matches against Ireland, England, Wales and France.
Lot 998:

South African tour of Great Britain 1931-32. 'Illustrated Souvenir of the Springboks, South African Rugby Team Tour 1931-32 England, Ireland, Scotland & Wales'. Compiled and edited by edited by Francis G. Richings and published by C.Mitchell & Co of London 1931. A comprehensive 64 page brochure with team profiles, pen pictures and biographies, fixture list, reminiscences, records of previous tours, photographs, history of South African rugby etc. Good/very good condition. Formerly the property of Arthur William Carr (cricketer). Nottinghamshire & England 1910-1934
Estimate: £80/120
Hammer price: unsold
Lot 999:

'Rowland Hill Memorial Match. England & Wales v Scotland & Ireland'. Official programme issued by the Rugby Football Union for the tribute match to Rowland Hill played at Twickenham on the 5th October 1929. Vertical crease otherwise in good condition. Scarce. Sold with a Littlewoods Football Annual 1936-37, with original illustrated wrappers in good/very good condition. Qty 2. Formerly the property of Arthur William Carr (cricketer). Nottinghamshire & England 1910-1934
Estimate: £70/100
Hammer price: £50
Rowland Hill, who died in 1928, was President of the RFU between 1904 and 1907 and the main force behind the decision to split Rugby Football into two codes, Union and League. In 1926 he became the first man to be knighted for services to the game. The main gate at the RFU headquarters at Twickenham is named after him
Lot 1000:

Rugby Union. British Lions tour to Australia and New Zealand 1959. Official autograph sheet nicely signed in ink in different colours by thirty three members of the British Lions touring party. Signatures include Ronnie Dawson (Captain), Alan Ashcroft, Dickie Jeeps, David Marques, Bec Risman, Ray Prosser, Haydn Morgan, Noel Murphy, Tony O'Reilly, Malcolm Price, Ken Scotland, Roddy Evans etc. Also signed by A.W. Wilson (Manager) and O.B. Glasgow (Assistant Manager). The sheet with horizontal and vertical folds is laid down to album page. G/VG
Estimate: £120/160
Hammer price: £190
The Lions won the two match Test series against Australia 2-0, and lost the four match series against New Zealand 3-1. The tour was notable for the then record 842 points scored by the Lions in their thirty three matches, with Tony O'Reilly scoring a record twenty two tries
Lot 1001:

Rugby Union. South Africa tour to United Kingdom and France 1960/61. Official autograph sheet on 'S.A. Rugby Touring Team 1960' headed paper signed in ink (one in pencil) by thirty two members of the South Africa touring party. Signatures include Doug Hopwood, John Gainsford, Jannie Engelbrecht, Dave Stewart, Frik du Preez, Abie Malan, Charlie Nimb, Mof Myburgh, Fanie Kuhn, Hugo van Zyl etc. The sheet with horizontal and vertical folds is laid down to album page. G/VG
Estimate: £50/80
Hammer price: unsold
South Africa played five international matches on the tour, beating Wales, Ireland, England and Scotland, and losing to France
Lot 1002: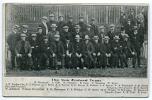 Rugby League. New Zealand tour to Australia and Great Britain 1907/08. Original mono postcard of the New Zealand touring party seated and standing in rows in formal attire. Printed title and player's names to lower border. Published by J. Richardson of Leeds. Players featured include Messenger, Wrigley, Smith, Wright, McGregor, Trevarthen, Johnston etc. Small crease to top left corner, some ageing, otherwise in good condition
Estimate: £20/30
Hammer price: £30
The 1907/08 tour was the first made by a New Zealand rugby league team