Sporting Ephemera
Lot 983:

'Royal Bar, Perth'. Silver metal advertising cigarette case with image to centre of race horses head with 'Royal Bar, Perth' [Scotland] above. The case measures 3.25"x3.5". G
Estimate: £60/90
Hammer price: unsold
Lot 984:

Horse Racing vesta case. Victorian silver metal vesta case decorated with two horses and jockey's to each side. '925 sterling' to inside edge. Approximately 1.5"x1.75". Metal ring suspension. VG
Estimate: £70/100
Hammer price: unsold
Lot 985:

'Florida Pearl'. Martell Cup Steeple Chase, Aintree, 4th April 2002. Official race card with portrait of the winning horse and jockey by the renowned Newmarket-based artist, Jacquie Jones painted in acrylic to the spread of the race card. Signed by the jockey, B. Geraghty, trainer, W.P. Mullins, and the artist. Framed and glazed overall 13.5"x10". G/VG - horse racing
Estimate: £50/80
Hammer price: unsold
'Florida Pearl' won the race by eleven lengths
Lot 986:

Horse Racing. An attractive and unusual Victorian Staffordshire mug printed in black with large vignette, around the whole mug, of a horse race in progress, with four horses and jockeys jumping a fence with church steeple and woodlands in background. Decoration to inner rim and handle. 4" tall. Two chips to base otherwise in good condition
Estimate: £100/150
Hammer price: unsold
Lot 987:

Horse Racing 1948-1953. Selection of thirty four official race cards for meetings at Brighton 1948 second day, Catterick Bridge January 1953, Chester 1951 May 1951 second day, Doncaster October 1951 first and second days (one duplicate), Lanark July 1952 first and second days, Leicester November 1950 & April 1951 (2), Lincoln March 1951 second day ( two copies), March 1952 second and third days, and March 1953 third day, Liverpool November 1950 (2 copies) & April 1951 (2 copies), Manchester March 1953, Market Rasen March 1953, Newmarket September 1950, Nottingham August 1951 & January 1953, Ripon April 1951 & August 1951, Stockton October 1950 & March 1951, Thirsk April 1950 & April 1951 first day, Wetherby January 1953, and York May 1952 (days 1, 2 and 3). Ink and pencil annotations to all cards, rusting to staples, general wear, otherwise in generally good condition
Estimate: £70/100
Hammer price: £150
Lot 988:

Cycling vesta case. Unusual Victorian bakelite brown vesta case, modelled as a book, depicting a lady cyclist to face, and a Gentleman cyclist to the reverse. Approximately 2"x1.5". G.
Estimate: £50/70
Hammer price: £35
Lot 989:

'Festprogramm zum 50 jāˆšĀ§hrigen jubilāˆšĀ§um des Sportclub Frankfurt 1880-1930'. Easter 1930. Twenty eight page Jubilee brochure for the Frankfurt Sports Club covering rugby, hockey and tennis. Colourful wrappers. The Easter Jubilee celebrations included rugby matches v Oxford University Greyhounds R.F.C., Old Alleyians F.C., hockey matches v Moths, London, Sussex and Surrey Wanderers etc. Some minor wear to edges and slight soiling to wrappers otherwise in very good condition. Formerly the property of Arthur William Carr (cricketer). Nottinghamshire & England 1910-1934
Estimate: £40/60
Hammer price: £20
Lot 990:

Ten pin bowling. Original 'Royal Star Automatic lighter' with scenes of ten pin bowling to both sides, one showing two skittles and a bowling ball and the other a girl bowling. Some wear to images otherwise in good condition
Estimate: £30/50
Hammer price: unsold
Lot 991: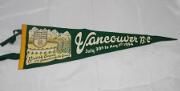 'British Empire and Commonwealth Games 1954. Large souvenir felt green pennant produced to commemorate the Games held in Vancouver, Canada from the 30th July to 7th August 1953. Colour printed with title 'Vancouver B.C. July 30th to August 7th 1954 with scenes of the Games stadium and mountains to background. 22" long.
Estimate: £25/35
Hammer price: £10
Lot 992:
'Kinsella Kids'. Four colour postcards from a set of six depicting a girl playing Diabolo by E.P. Kinsella 1907. Each card with a girl in different position and title to lower border. Titles are 'Waiting', 'Tangled', 'Missed It' and 'Got It'. Published by Langsdorff & Co. Series no. 711. G (ex Bob Appleyard (Yorkshire & England 1950-1958) collection)
Estimate: £15/25
Hammer price: £5
Lot 993: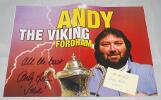 Darts. Andy 'The Viking' Fordham. World Darts Champion 2004. Original colour poster of Fordham holding the World Darts Championship trophy, signed by Fordham. Sold with two cards signed by Fordham and a covering letter also signed by Fordham. G/VG
Estimate: £10/20
Hammer price: unsold
Lot 994:

World Chess Masters Tournament 1922. Eight signatures in pencil on pieces laid down to album page of participants in the tournament held at the London Chess Congress, August 1922. Signatures are Capablanca (tournament winner), Marotti, Reti, Wahltuch, Rubinstein, Tartakower, Bogoljubov and Znosko-Borovsky. Rare. G
Estimate: £25/35
Hammer price: £280