Cricket Caps, Blazers & Attire
Lot 576:

Cricket Cruet Set. Silver plated Edwardian cruet set comprising salt, pepper and mustard pots in the shape of cricket balls with seams. The stand comprises of a set of stumps and bails with ball mounted to the top. The mustard pot with spoon. Monogram to the top of the mustard pot lid. Circa 1900-1910. Approx. 4.25" high. Good condition
Estimate: £70/100
Hammer price: £130
Lot 577:
'Australian cricket tours of England 1926 & 1930'. Large and impressive gold cigarette case presented to Mr Arthur Phillips, Chairman and Managing Director of Godfrey Phillips Ltd, by the Australian touring teams of 1926 and 1930. The front of the case has the engraved signatures of all sixteen members of the 1926 touring team and inscription to inside 'Presented to Mr Arthur Phillips with the compliments of the Australian touring team 1926'. Signatures include Herbie Collins (Cpt), Ponsford, Mailey, Oldfield, Grimmett, Woodfull, Richardson, Macartney, etc. To the back of the case there are the engraved signatures of all fifteen members of the 1930 touring team and the second inscription to inside 'Compliment confirmed by the Australian Cricket Team 1930'. Signatures include Bill Woodfull (Cpt), Bradman, Jackson, McCabe, Kippax, Richardson, a'Beckett, Hornibrook etc. The case is 9 carat gold and is hallmarked to the inside (marks worn), date letter for 1926, measures 3.25"x6.5" and weighs 210 grams. The case in exceptional condition. A unique personal presentation item given with the compliments of the both the 1926 and 1930 teams to Arthur Phillips
Estimate: £2500/3500
Hammer price: unsold
Godfrey Phillips featured the touring Australian cricketers heavily in their 1926 and 1930 advertising campaigns.

The cigarette case has very good provenance, it was purchased by an Englishman Joe Letts at a war-time auction held by the Red Cross during the Second World War, he had a slight interest in cricket but he valued the case more for the link it gave him with the country in which his sister had made her home (she married an Australian in World War 1). Whilst visiting his sister in Australia in 1959 he decided to try and found out who Arthur Phillips was and found through a newspaper that Bill Woodfull, who was a member of the 1926 touring party and captain of the 1930 Australian team and then [1959] a principal of a Melbourne Boys School, recalled that Phillips was Chairman and Managing Director of a big English company which had shown a number of kindnesses to the Australian Test teams of 1926 and 1930. There is an original 'Daily News' [Australia] newspaper report, dated 9th December 1959 detailing this, sold with the cigarette case. The case was later purchased by the vendors uncle, a cricket lover and collector of auction items who died around 20 years ago and left the case to the vendor. It has been in her family ever since
Lot 578:

Essex v Australia 1905. Silver cigarette case presented to Bert Tremlin, Essex 1900-1919 for taking eight wickets in the match. The silver case decorated with Attractive floral to all surfaces with crimped edge decoration. Inscription to cartouche to centre 'Essex v Australia, June 22, 23, 24 1905. presented by J.E. Lincoln Esq to B. Tremlin as a memento. 8 wickets for 138 runs'. Makers mark for Joseph Gloster and hallmarks for Birmingham 1899. Dent to case edge otherwise in very good condition
Estimate: £200/300
Hammer price: £180
In 1905, Essex defeated Australia at Leyton in the tour match played in June 1905 by 19 runs. Tremlin took 4-54 in the Australian first innings and 4-81 in the second. Claude Buckenham took twelve and Bert Tremlin eight wickets in the match. Both players were presented with a silver cigarette case as a momento
Lot 579:

Cricket belt buckle. Rare circa mid 19 century cricketer's belt buckle. The exquisite brass /gilded metal buckle complete with two interlocking parts to make the full buckle has image to the left of a batsman at the wicket about to play a shot and to the right hand side a bowler at the wicket about to bowl a ball. The centre is decorated with a winners garland, wickets within a shield and crossed bats and ball, the edges of the buckle on both side beautifully decorated with floral design. 3"x1.75". A stunning buckle and amazingly in 'as issued' flawless condition. A truly collectable buckle
Estimate: £150/250
Hammer price: £150
Lot 580:

Cricket medal 1907. Attractive metal cross-shaped medal with crossed bats, ball and stumps motif to centre and blue ribbon. Engraved to verso 'V.P.C.A. Runners up 1902. Adelphi Amateurs C.C. W. Slate'. The medal by Vaughton of Birmingham, in original box, with 'Victoria Park Cricket Association 1907' title to lid. Wear to box, tarnishing to medal, otherwise G
Estimate: £50/70
Hammer price: unsold
Lot 581:
Surrey County Cricket Club. Ronson cigarette lighter produced to commemorate Surrey's County Championship win in 1955. With Surrey emblem, club name and Arthur McIntyre's initials to one side. To the other 'County Champions 1952, 1953, 1954, 1955'. These lighters were presented to the players by Stuart Surridge. In original leather pouch. Ex Arthur McIntyre collection. VG
Estimate: £80/120
Hammer price: £140
Lot 582:

Surrey C.C.C. 'Famous Cricketers'. Three early sepia brown circular lapel button/badges, issued by Cameo Cigarettes (B.A.T.) 1901/02. Two of Tom Hayward (both different) and one of Tom Richardson. Rare. VG
Estimate: £70/100
Hammer price: £50
Lot 583:

'Surrey County Champions 1952-56'. Large wooden shield with Surrey colour emblem to centre with printed title above. Some faded signatures to shield. Presented to Arthur McIntyre. 8"x7". G
Estimate: £40/60
Hammer price: unsold
Lot 584: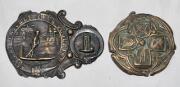 Cricket belt buckles. Two metal belt buckles, possibly Victorian. One with a batsman at the crease with fielders and a marquee in the background. 'Let Cricket Ever Flourish' to border. A set of stumps and ball in a roundel to one side. Good condition. The other with four shields with crossed bats, cricket stumps and archery motifs. Wear and damage
Estimate: £40/60
Hammer price: £30
Lot 585:

Cricket plaque. Oval brass plaque in contemporary wooden frame of a raised scene featuring the batsmen taking a single with the ball being thrown in by a fielder to the wicketkeeper. Pavilion with flag flying in the background. Maker and date unknown, possibly 1910s/1920s. 7"x9". Library bookplate of Bob Appleyard to verso. G/VG
Estimate: £40/60
Hammer price: £35
Lot 586: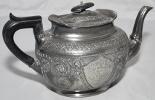 Cricket teapot. A tooled decorative silver metal teapot for Pitsmoor C.C. inscribed 'Presented to J. Hanson by E. Barber for the batting average season 1896'. 'Sheffield' stamp to base. 10" long, 6" tall, 5" deep. Small dents, otherwise in good condition
Estimate: £30/40
Hammer price: £22
Lot 587: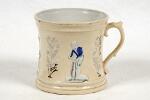 Cricket mug. Extremely large Staffordshire waisted mug with strap handle, with cream background and three raised figures of a batsman, bowler and wicket keeper, highlighted in blue and green, believed to be Lillywhite, Pilch and Box. c1860's. Floral decoration between figures in silver lustre. 5.25" tall, 5.5" diameter. Unusual to see this design of mug in such a large size. Minor wear to figures otherwise in good/very good condition.
Estimate: £180/250
Hammer price: unsold
Lot 588:

W.G. Grace. Doulton Lambeth stoneware jug with pale body and dark brown rim, decorated with three portraits/roundels of W.G. Grace, K.S. Ranjitsinhji and George Giffen within scrolling foliage. Two tone brown strap handle. Produced in 1896. Approx 7" high. Impressed Doulton Lambeth stamp and factory mark to base '325'. Very good condition
Estimate: £250/350
Hammer price: £220
Lot 589: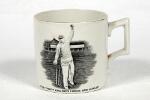 Hedley Verity. Yorkshire & England, 1930-39. W. Ellis of Bramley commemorative mug for 'Hedley Verity, England's Famous Spin Bowler' with vignette of Verity in bowling pose. Verity's 'England and Australian Test Records to verso, ten wickets v Warwickshire 1931 and ten wickets v Nottinghamshire 1932 'including the Hat Trick' and creating World Record figures of 19.4 overs, 16 maidens, 10 wickets for ten runs' . Stamps to base. Gilt lustre to rim and handle. Approx 4" high. Minor wear to lustre on rim otherwise in good/very good condition
Estimate: £200/300
Hammer price: £180