Cricket Caps, Blazers & Attire
Lot 576: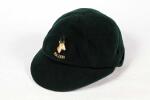 Bruce Mitchell, Transvaal & South Africa 1925-1950. South African wool Test cap, by E.C. Devereux of Eton, with raised embroidered touring emblem of the springbok with 'S.A. 1935' below. Name 'B. Mitchell' inscribed in ink to cap. Worn by Mitchell on the South African tour of England. The cap has been removed from the box frame, which features the signature of Mitchell on piece mounted to lower border of the mount. Minor wear to the cap lining otherwise in good condition
Estimate: £300/500
Hammer price: unsold
Mitchell played in every one of South Africa's forty two Tests between 1929 and 1949 scoring 3471 runs at an average of 48.88. In the 1935 Test series he headed the Test averages with 488 runs at an average of 69.71 with two centuries
Lot 577: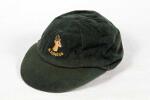 Edgar John Barlow. Transvaal, Derbyshire & South Africa 1959-1982. South Africa green Test cap, by L.J. Palmer of Johannesburg, worn by Eddie Barlow on the South African tour of Australia & New Zealand in 1963-64. The cap with South African emblem of the springbok and 'S.A. 1963-64' to front 'E.J. Barlow' indistinctly handwritten to inside label. Some wear and fading to the cap otherwise in good condition. Previously sold by Leski Auctioneers of Australia in 2005
Estimate: £300/500
Hammer price: unsold
Eddie Barlow played in thirty official Tests for South Africa scoring 2516 Test runs at 45.74. He played in all eight Tests on the tour, five in Australia and three in New Zealand. In the first Test he made 114 in the first innings, 109 & 54 in the second Test, 201 & 47no in the fourth Test in Australia. In New Zealand he made 22 & 92 in the first Test and 61 & 58 in the third Test
Lot 578:
William Eric Bowes. Yorkshire & England 1929-1947. M.C.C. tour of Australia 'Bodyline' 1932-33. M.C.C. navy blue cloth Test touring cap, by E.C. Devereux of Eton, Bucks, with excellent raised embroidered touring emblem of St. George & Dragon in silver thread to front of cap. 'W.E. Bowes' handwritten in black ink to inner label of cap. Wear and some damage to inner lining, the cap has one small moth hole to the rear otherwise in good condition. A rare Bodyline tour cap, one of only seventeen caps issued to the players on the tour. A cap from the '1932/33. Bodyline' series must surely be the ultimate possession of any serious cricket cap collector. A rare and almost unique cap from the iconic series which caused such controversy and ill feeling with its leg theory bowling which has had long lasting repercussions on both Test and County cricket
Estimate: £3000/5000
Hammer price: unsold
The cap was purchased by the vendor from Eddie Lawrence, cricket writer and Somerset cricket lover but originally from Yorkshire, in 2010, in the year that he died. The cap emblem and makers label have been checked against the 'Bodyline' 1932/33 cap held at Lord's museum, which was Harold Larwood's, and they are identical.

Bill Bowes playing career with Yorkshire spanned from 1929-1947. He played in 372 first-class matches as a right arm fast bowler and a right-handed tail end batsman. He took 1,639 wickets with a best performance of nine for 121 and completed ten wickets in a match 27 times. He scored 1,531 runs with a highest score of 43* and is one of very few major players whose career total of wickets taken exceeded his career total of runs scored. Bowes was a late selection for the tour, just three days before the ship sailed, for England's tour of Australia and New Zealand in 1932/33. He played in only the second Test on the Australian leg of the tour, at the Melbourne Cricket Ground, in which he bowled Don Bradman first ball and that was his only wicket in the match, which Australia won by 111 runs. Bowes played in the second Test against New Zealand at Eden Park in Auckland and took six for 34 on the first day to bowl New Zealand out for only 158. Bowes played in twelve first-class matches on the tour and took 37 wickets with his best performance the six for 34 in the Auckland Test.

The tour of Australia & New Zealand in 1932/33 was Bill Bowes only overseas tour with the M.C.C.
Lot 579: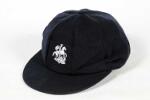 Darren Gough. Yorkshire & England. England navy blue cloth touring cap worn by Gough during his playing career. The cap, made by Albion C&D of Australia, with embroidered St. George & Dragon emblem of England to cap. Previously sold by Knights as lot 675, November 2015. Originally given to the prior vendor by Gough, a personal friend. VG
Estimate: £120/160
Hammer price: unsold
Lot 580:

I.Zingari C.C. I.Zingari cricket club cloth cap in club colours of red, black and gold. Sold by Knights as lot 766, August 2016. Some wear to cap otherwise in good condition
Estimate: £70/100
Hammer price: unsold
I.Zingari means 'Gypsies' in Italian
Lot 581:

Marylebone Cricket Club black cricket cap with MC.C. emblem in gold and red. The cap by Albion C&D of Australia. Size large. Sold by Knights as lot 768, August 2016. G
Estimate: £60/80
Hammer price: unsold
Lot 582:

'Bradman Museum' baggy green cricket cap. The cap in green with gold braiding, by Albion C&D of Australia. Size XL. These caps do not now appear to be available at the Museum. G/VG
Estimate: £40/60
Hammer price: £30
Lot 583:

Chris Broad. Nottinghamshire, Gloucestershire & England. Official mid blue blazer worn by Broad on the England 'Rebel' tour of South Africa 1990/91. With tour emblem and tour & date in scroll below. The blazer by Phil Carrick Promotions with a signed note of authentication from Broad. VG
Estimate: £100/150
Hammer price: unsold
Previously sold by Knights as lot 1193 in April 1997
Lot 584:

Nick Cook. Northamptonshire & England. Official mid blue blazer, by Burton, worn by Cook on the proposed England 'A' tour of Bangladesh, Sri Lanka and Zimbabwe 1986. With England emblem and tour & date in scroll below. Embroidered label 'N.G.B. Cook' to inside collar. With note of authentication from Cook dated 1995, his Benefit year. Sold with an M.C.C. tour tie by Kent & Curwen, also owned by Cook, with note of authentication by Cook. Qty 2. VG
Estimate: £70/100
Hammer price: £38
The tour visited only Sri Lanka due to some England players' connections with South Africa
Lot 585:

Nick Cook. Northamptonshire & England. Official navy blue blazer, by Simpson of Piccadilly, worn by Cook on the tour to India for the 1989 M.R.F. World Series (Nehru Cup). With England emblem to front pocket. Handwritten label 'N.G.B. Cook' to inside collar. With note of authentication from Cook dated 1995, his Benefit year. Sold with an official tour tie by Kent & Curwen, also owned by Cook. Qty 2. VG
Estimate: £70/100
Hammer price: £35
Lot 586:

Kevin Cooper. Northamptonshire & Gloucestershire. Nottinghamshire C.C.C. 1st XI blazer and tie. The bottle green blazer, by James Bell, with Nottinghamshire emblem to chest. Worn by Cooper during his playing career. With two notes of authentication signed by Cooper. Qty 2. VG
Estimate: £50/70
Hammer price: £28
Lot 587:

Kevin Cooper. Northamptonshire & Gloucestershire. Nottinghamshire C.C.C. 1st XI blazer and tie. The navy blue blazer by Berwin, with Nottinghamshire emblem to chest. Worn by Cooper during his playing career. With two notes of authentication signed by Cooper. Qty 2. VG
Estimate: £50/70
Hammer price: £30
Lot 588:

David Capel. Northamptonshire & England. England white long sleeved shirt with England and 'MRF World Series' emblems to chest, worn by Capel on the tour to India for the 1989 M.R.F. World Series (Nehru Cup). With signed note of authentication from Capel dated 1989. G
Estimate: £30/50
Hammer price: unsold
Lot 589:
Cricket ties. Collection of twenty six official and unofficial ties including Trevor Jesty Benefit 1982, Australia tour to West Indies 1973, Australia tour to New Zealand 1973/74, England v South Africa 1998, Warwickshire c1960s. Good Durham interest relating to their attaining first class status in 1992 etc. G
Estimate: £30/50
Hammer price: £32